Renault Trafic (2014-Present) Ply-Line Kit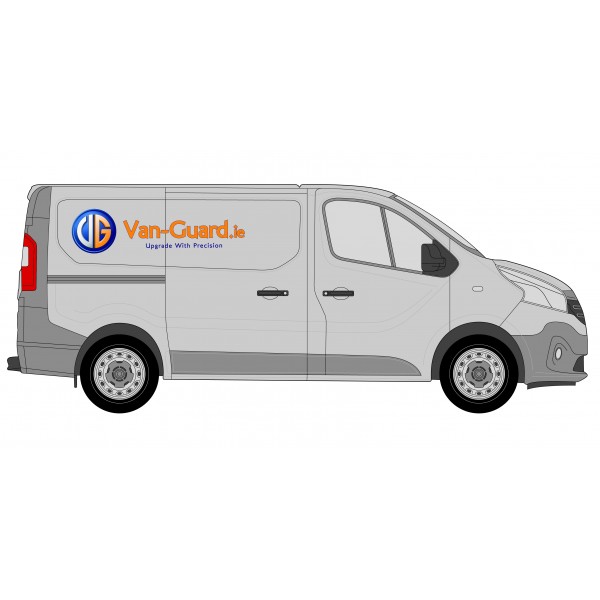 Van-Guard use the latest CNC cutting technology to enable production of the highest quality, Precision Ply Lining Kits. Our kits will prevent damage to your vehicle and reduce ongoing repair costs, while increasing your eventual resale value. 
These kits are for DIY application though they do require a basic mechanical knowledge as not to cause damage to vehicle or vehicle systems.
Why choose us:
- CNC Cut kits ensure perfect consistent fit every time
- Strong and durable hardwood throughout plywood
- We offer nationwide delivery
- We have the infrastructure to produce large numbers of kits fast
- We offer a fitting service almost nationwide (Call for more details)
- All our plywood contains non-toxic adhesives (Low Odour)
 What are your options:
Budget Grade
 Our Budget Grade kit offers a free 12mm floor upgrade, though it is a less durable and softer Plywood product. It also has a dark synthetic veneer compared to our lighter coloured Premium Plywood. Though the budget grade is a great product we do recommend the Premium grade which offer more strength with less weight.
Premium Grade
Our Premium Grade is a Plywood designed specifically for Van-Lining & Shelving applications, it is a Plywood exclusive to Van-Guard. The Premium product is developed to bring maximum protection and durability, with minimum weight addition. The Premium product also has a much lighter natural wood veneer resulting in a brighter cargo area.
What you get:
- Sidewalls in 6mm Hardwood Throughout Plywood
- Door panels in 6mm Hardwood Throughout Plywood
- Floors in 9mm Hardwood Throughout Plywood (12mm With Budget Grade)
- Wheel arch boxes in 9mm Hardwood Throughout Plywood (12mm With Budget Grade)
- Screws for fitting complete kit
- Silicone to seal the edges after fitting
- Aluminium edging for side and rear doors
- Telephone support where required
 We can also create custom storage solutions and shelving systems, please contact us for a consultation. We provide DIY Kits or alternatively you can avail of our mobile fitting service. Our experienced fitter's can travel to you, at your convenience.

 Please ensure that you give us the complete spec of your vehicle when ordering. We will need to know:
- Vehicle Wheelbase
- Vehicle Roof Height
- Front or Rear Wheel Drive
- Rear doors Single or Double
- Sliding Doors (Single or Double)
- Locations of tie downs (If you require them to be left exposed)
We may contact you requiring more info as vehicles vary in spec.
 We also have over a decade of experience in window tinting and glass coatings, on both private and commercial vehicles and are certified installers of LLumar window films. Why not ask about privacy or security glass coating today? Visit www.tint.ie for more info.
 We are also one of the most equipped sign and graphics shops in Munster, and have been in operation since 2005. Specialising in vehicle graphics and vehicle wraps, but also producing general signage, printing and graphic design. Visit www.sign.ie and take a look at some of our work.
If you have any other questions please do not hesitate to contact us on:
Office: 061 313 998
Email: info@van-guard.ie